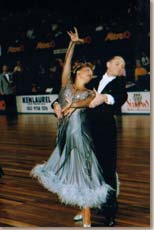 De Hall Dance Studio
Glen Alpine Community Centre
Corner Englorie Park Drive
& Heritage Way
Glen Alpine, NSW



if you don't attend classes regularly it will be necessary to check with us regarding changes made during the year.
Dance the rhythm of life
We are a professional business and take pride in what we offer.
Our success stories are many, so come along and become one of them by learning to dance the rhythm of life.
---
A bit of News
The De hall Dance Studio proudly presents
Excellence in Dancing to the Rhythm of Music
Learn from highly qualified dance teachers, recognized by
dancesport Australia and the Australian Dance Board.
Registered with the
A.D.S / F.A.T.D / A.N.D.A, Dancesport Australia, The world Dance and Dancesport Council.
Our business is full time and we are committed to teaching dance to a standard that is satisfactory to our customers.
We hope you be come one our satisfied customers.
To confirm or to make an appointment please phone us on:
m 1: 0414 285 996
m 2: 0409 285 996

All correspondence to:
PO BOX 316,
Campbelltown, NSW 2560